Honoring Athletes, Coaches and Benefactors whose outstanding performance has earned them the right to be enshrined in the
Sussex County Sports Hall of Fame!
The Sussex County Sports Hall of Fame
1976 Charter Members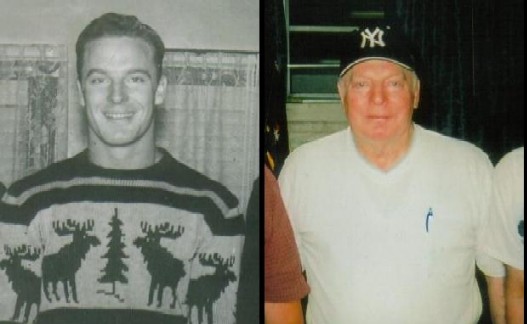 ATTENDED NEWTON HIGH SCHOOL 1946-1949 WITH VARSITY LETTERS IN FOOTBALL, BASKETBALL AND BASEBALL. HIS SOPHOMORE YEAR WAS 8-2 PITCHER AND 6-4 AS A JUNIOR. HIS SENIOR YEAR HE STRUCK OUT 24 BATTERS AGAINST HACKETTSTOWN HIGH SCHOOL. SEASON AVERAGE WAS 8-0, BATTING .423 WITH 3 HOME RUNS. IN BASKETBALL 1949 SET SCORING RECORD FOR THE COUNTY, AVERAGING 19 PPG FOR 34 STRAIGHT GAMES. IN FOOTBALL AVERAGED 1 TD FOR EVERY GAME PLAYED IN 3 SEASONS. HELD SEASON SCORING RECORD FOR 20 YEARS. ALL STATE IN BASEBALL, FOOTBALL FOR 2 YEARS, AND BASKETBALL FOR 1 YEAR.
SIGNED FOR THE DETROIT TIGERS FOR FOUR YEARS. SIGNED ON WITH THE BROOKLYN DODGER'S AS PITCHER, MOVED TO THE OUTFIELD WHERE HE BATTED .347. MADE THE ALL STAR TEAM. LED THE LEAGUE IN STOLEN BASES (35).
PLAYED FOOTBALL FOR U.S. NAVY, PLAYED FOR THE FRANKLIN MINERS FOR SEVEN YEARS OFTEN PLAYING TWO GAMES A WEEKEND 1 NAVY 1 MINERS. PLAYED BASKETBALL 10 YEARS WITH NEWTON AA AND FETZERS CHIEFS, THREE YEARS FOR NAVY.
COACHED TWO YEARS AT N.H.S. TWO YEARS AT POPE JOHN; COACHED 7 YEARS WITH ANDOVER ARROWS LITTLE LEAGUE WINNING 3 CHAMPIONSHIPS, HAD 32 STRAIGHT WINS AT ONE POINT. COACHED NEWTON BASEBALL LITTLE LEAGUE PANTHERS FOR 2 YEARS AND COUGERS FOR 1 YEAR WINNING TITLES FOR ALL THREE.