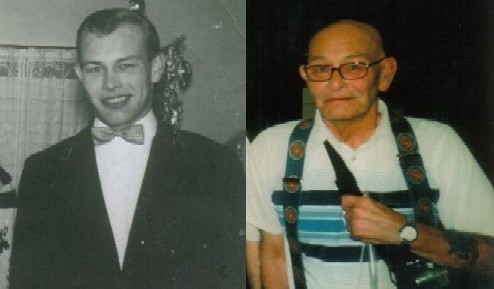 KENNETH R. BENSON - Honorary Member
A 1949 GRADUATE OF NEWTON HIGH SCHOOL. HE EARNED VARSITY LETTERS IN FOOTBALL AND WRESTLING. HE PLAYED FOOTBALL FOR THE NEWTON A.A. IN THE NORTH JERSEY SEMI-PRO FOOTBALL LEAGUE IN 1949 AND 1952 THROUGH 1957.
HE PLAYED IN THE SUSSEX COUNTY ADULT BASKETBALL LEAGUE 1949-1950 AND 1952-1964
HE HELPED INITIATE POP WARNER FOOTBALL IN NEWTON IN 1958.
SERVED AS AN ASSISTANT AND HEAD COACH FROM 1958-1985 AND 1988-1989.
HE WAS BUSINESS SECRETARY OF THE NEWTON "LIL" BRAVES 1958-1964.
HE COACHED THE NEWTON GRAMMAR SCHOOL BASKETBALL TEAM 1968-1970.
HE WAS ASSISTANT COACH FOR ST. JOSEPH'S WRESTLING TEAM 1966-1970
IN THE U.S. MARINE CORPS HE PLAYED FOOTBALL FOR THE YOKASUKA SEAHAWKS – JAPAN 1951.
HE WAS IN THE U.S. MARINE CORPS; 1948-1951.
HE RETIRED AS MSGT. FROM THE MARINE CORPS RESERVES 1953-1972.
Has the rare distinction of playing for N. H.S. and F.H.S. during that period when the Newton-Franklin football game was for the Sussex County Championship.
He graduated from Franklin High School in 1939. Made the Newark News All-State Football Team in 1938.
In 1936 and 1937 he played on two State Championship Baseball Teams while at Franklin, He also participated in the Greater Newark Baseball Tournament. Franklin made it to the quarter finals.
Made First Team All-State as a running back at Blair Academy in 1939 and led the State Prep Schools in scoring. Graduated Blair in 1940.
Played Freshman Football at Wake Forest before the War and Varsity Football for George Washington U. in 1946 and played tailback.
Played for the Franklin Miners and became coach of the team in 1947.
In 1949 he was one of the founders of the Newton AA Football Team and its first coach.
In 1950 he assisted Russ Van Atta to inaugurate the Little League Program in Franklin and Ogdensburg.
a 1929 graduate of newton high school and a 1933 graduate of penn state with a degree in animal husbandry.
in high school he earned varsity letters in wrestling (2), football (2), basketball (2), and baseball (1).
at penn state he was recognized as a competitive wrestler for 4 years.
AFTER GRADUATING FROM COLLEGE HE BECAME ACTIVE WITH THE NEWTON WRESTLING CLUB.
in 1934 he won a first place medal at 175 lbs. in 1936 in won a second place medal at 175 lbs. in 1938 he won a second place medal at 158 lbs.
he was a member of the n.j. amateur athletic assoCiation. he spear headed promotinG all phases of wrestling in sussex county. in 1985 he received the henry boresch award, in recognition of his outstanding service to the sport of wrestling in sussex county.
in 1983 he served as secretary of the sussex county sports hall of fame. from 1985-1989 he served in the capacity of first vice-president.
he will long be remembered for his dedicated contributions to the hall of fame museum.