The Sussex County Sports Hall of Fame
1985 Inductees
JOSEPH BIGG - ED FULTON - RICHARD LORENZO
JOSEPH BIGG - Honorary Member
ATTENDED FRANKLIN SCHOOLS, WHERE HE PARTICIPATED IN TRACK. PLAYED FOOTBALL FOR THE FRANKLIN MINERS IN 1930'S.
OUTSTANDING BOWLER AND SOFTBALL PITCHER. COACHED MANY AREA SPORTS TEAMS INCLUDING THE NEWTON AA BOYS CLUB WRESTLING TEAM AND THE PICATINNY BASEBALL TEAM. CHAIRMAN OF ELKS COMMITTEE TO DEVELOP THE TRACK AT NEWTON H.S.
HELPED ORGANIZE LITTLE BIGGER LEAGUE, BABE RUTH TEAMS IN THE COUNTY, AND BIDDY BASKETBALL IN NEWTON. COMMISSIONER OF POP WARNER FOOTBALL ON THE EAST COAST FOR 5 YEARS, WITH 865 TEAMS AS MEMBERS. RECEIVED ELKS LIFETIME MEMBERSHIP FOR HIS WORK WITH THE YOUTH IN THE COUNTY.
Graduated from Helen Morgan Elementary School OF SPARTA, played football from the 3rd thru 8th gradE in Sparta Little League Program. Graduated from Sparta H.S. in 1973 and lettered in Football and Basketball IN 11TH AND 12TH GRADES. In 1971, he made 1st Team All Sussex County as offensive tackle. In 1972, he made 1st Teams, All Sussex County, Paterson News and All Suburban.
Attended University of Maryland where he earned 4 varsity football letters. Played as a Freshman on Varsity and played in the Peach Bowl. As SOPHOMORE, he played in Liberty Bowl and in his Junior year, AS A VARSITY MEMBER PLAYED IN the Gator Bowl and as a Senior (on 11-0 team) in the Cotton Bowl. ALSO Played THIS YEAR in the Hula Bowl and Japan Bowl. PLAYED IN A TOTAL OF 6 BOWLS IN COLLEGE CAREER. Made 1st Team Atlantic Coast Conference in Senior year as well as Football News 1st Team All American.
DRAFTED BY THE Los Angeles Rams 3RD round played for them from 1979-1980, In 1980-81, he played for the Buffalo Bills (NFL). HAMILTON TIGER CATS OF CFL 1981-1984. IN SELECTED EASTERN CANADA ALL-STAR TEAM. EARNED THIS HONOR AGAIN IN 1982. 1984 played for the Washington DC Federals (USFL). This, his 9th year, AS A PROFESSIONAL FOOTBALL PLAYER, FOUND HIM PLAYING FOR Orlando Renegades of the USFL.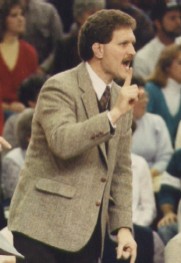 Attended Frankford Twp. School 1951-60. Graduated from Newton H.S. in 1964 where he earned 3 letters in wrestling. 2 time District Champion, Regional Champion and State runner-up in 1964 at 141 lb. Class. New Jersey Herald Sportsman of the Month 3 times, 1964, 1967 and 1968. 1st athlete to get such honor. At Newton played Frosh. And J.V. baseball. Participated in Little League and Babe Ruth Baseball. Played for Branchville American Legion and Branchville Semi-Pro teams.
In 1964 was named Kiwanis International Outstanding Student Athlete and won the Sussex County American Legion AwaRD.
Graduated from Penn State U. in 1968. Earned his masters in 1974. Wrestled 3 years Varsity 1966-67-68. Undefeated in dual meets 1967, 1968. Eastern Intercollegiate Wrestling Association 3 time place winner. In 1968 EIWA in 191 lb. Class champion. Chosen outstanding wrestler and earned most falls trophy. East-West winner 1968. Named Eastern Wrestling League "Coach of the Year" 1981. Penn Asst. Coach 1968-1974. At present time he is head Coach at Penn State.
FOUNDER OF THE SUSSEX COUNTY SPORTS HALL OF FAME. ELECTED ITS FIRST PRESIDENT IN 1976.