A versatile Newton High School, Blair Academy and Springfield College athlete. Received All State Baseball recognition three times.
Continued playing career in the service and as a member of the Newton AA and Fetzer Chiefs. Began successful football, basketball and baseball coaching career at Fox Lane (NY) High School. Names New Jersey Herald Coach of the Year in Football (1970) and Baseball (1978) at Hopatcong High School.
A MEMBER OF THE SUSSEX CARDINALS WHO DOMINATED THE NORTH JERSEY BASEBALL LEAGUE IN PITCHING FOR OVER 10 YEARS. RECORDED A 79-10 WON-LOST RECORD FROM 1954-64 WITH 569 STRIKEOUTS.
LED THE LEAGUE IN HITTING 2 YEARS AND COMPILED A .358 BATTING AVERAGE OVER 14 YEARS. PITCHED TWO NO-HITTERS FOR SUSSEX HIGH SCHOOL. A FOUR TIME ALL COUNTY/ALL STATE BASEBALL SELECTION.
"iron man" of the franklin high school football team in the early 1930's.
helped organize and served as first head coach of the franklin miners. spearheaded formation of the north jersey football league.
a dedicated youth athletics program coach and fund-raiser. engineered and directed construction of alma mater's football stands. earned an athletic/scholarship to alfred university where he starred in three sports.
ONE OF THE MOST VERSATILE ATHLETES TO EVER GRADUATE FROM NEWTON HIGH SCHOOL. EARNED A TOTAL OF 10 VARSITY LETTERS FOR BASEBALL, BASKETBALL AND FOOTBALL. TWICE NAMED TO ALL COUNTY/ALLSTATE TEAMS FOR BOTH BASEBALL AND BASKETBALL.
SCOUTED AND SIGNED BY THE WASHINGTON SENATORS, "WILLIE" PITCHED FOR SIX DIFFERENT CLUBS DURING A PROFESSIONAL CAREER THAT SPANNED FROM 1956 THROUGH 1963.
Three-time NJSIAA Wrestling Champion for Newton High School.
Co-Captained Penn State's 1953 NCAA Championship Wrestling Team. Earned second and third place NCAA finishes for the Nittany Lions.
Head Wrestling Coach at the University of Pennsylvania from 1962-70. Led Undefeated Quakers to Ivy League Titles in 1968 and 1969. Twice named Coach of the Year by the University of Penn Athletic Managerial Board.
An All State/All County Football and Basketball selection from Franklin High School.
Outstanding Lineman and Basketball player for the University of Virginia.
Played professionally for the Pittsburgh Steelers, Philadelphia Eagles and the Winnipeg Blue Bombers.
A member of the FRANKLIN Miners and Sussex County's 1961 Athlete of the Year. Compiled a winning RECORD as Head Football Coach of Dickinson, West Milford and Lakeland High Schools from 1960-71.
COMPILED NINE LETTERS AT FRANKLIN HIGH SCHOOL IN FOOTBALL, BASKETBALL AND BASEBALL. EARNED ALL STATE/ALL COUNTY FOOTBALL STATUS AND NAMED TO THE ALL COUNTY BASKETBALL TEAM.
AN OUTSTANDING UNIVERSITY OF VIRGINIA LINEMAN FROM 1953-1957. ASSOCIATED PRESS SOPHOMORE LINEMAN OF THE NATION NOMINEE IN 1954 WHEN HE WAS ALSO NOMINATED TO THE ATLANTIC COAST CONFERENCE ALL AMERICAN CHECKLIST.
a native of sussex whose trap shooting marksmanship came to the fore when he served in the u.s. army during world war i.
captured numerous trap shooting titles including five atlantic indians crowns. the north morris trap shooting champiOn in 1922 and 1929. 1938 north jersey champion. broke 96 out of 100 targets to win the united states amateur championship in 1938.
SUSSEX COUNTY'S FIRST THREE-TIME STATE HIGH SCHOOL WRESTLING CHAMPION. EARNED FOUR VARSITY WRESTLING LETTERS AT NEWTON HIGH SCHOOL GOING UNDEFEATED AND PINNING ALL BUT ONE OF HIS OPPONENTS DURING HIS SOPHOMORE, JUNIOR AND SENIOR YEARS.
CULMINATED SCHOLASTIC CAREER WITH SELECTION AT STATE'S MOST OUTSTANDING WRESTLER, THREE-TIME STATE AAU CHAMPION WHO FINISHED SECOND AND FOURTH IN NATIONAL COMPETITION. PAST PRESIDENT OF THE SUSSEX COUNTY MAT CLUB.
EARNED 12 VARSITY LETTERS AT FRANKLIN HIGH SCHOOL IN FOOTBALL, BASKETBALL AND BASEBALL FROM 1938-42. AN OUTSTANDING DEFENSIVE PLAYER FOR THE FRANKLIN MINERS FOOTBALL CLUB WHO RECEIVED THE NEW JERSEY HERALD SPORTSMAN OF THE MONTH AWARD.
HONORED BY HOMETOWN WITH "PINIAHA DAY" IN 1953 AND NAMED SPARTA CITIZEN OF THE MONTH 23 YEARS LATER. A TIRELESS YOUTH LEAGUE DIRECTOR COACHING YOUNGSTERS IN THREE SPORTS.
prominent little league umpire on the state, eastern regional and national scenes for over two decades.
first new jersey resident to umpire in the little league world series.
known for his distinctive "balls-and-strikes" calls, richie's officiating career includes high school football and basketball refereeing. new jersey herald sportsman of the month. highly successful football, basketball and baseball coach at blair academy.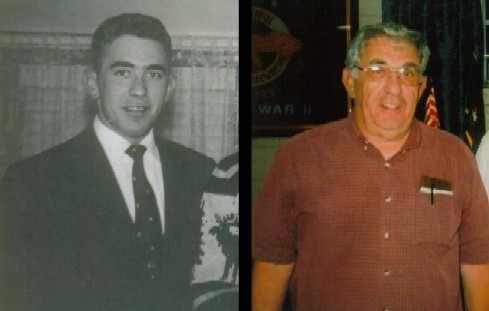 Johnny's illustrious playing and coaching career encompasses over three decades of accomplishments. A three sport star at Newton High School who returned to his Alma Mater to earn Coach of the Year honors in both Baseball and girl's Basketball.
Continued his playing career while serving in the U.S. Army and as a member of the Franklin Miners, Fetzer Chiefs and Sussex and Newton AA's.